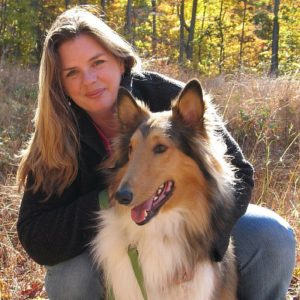 Jeni Grant created Train Your Best Friend, LLC to help the family dog and their families live happily together and to help with serious issues, such as anxiety, fear, aggression, and reactivity. Jeni provides group classes, seminars, private in home consults, and direct training sessions with your dog. Train Your Best Friend is based in Santa Fe, New Mexico, and also offers remote services, such as phone consultations, seminars, and online classes to clients across the country.
Train Your Best Friend, LLC founder Jeni Grant has over 20 years of dog behavior experience and training. She is a Certified Professional Dog Trainer – Knowledge Assessed, and a member of several professional organizations.
Jeni's Past Experience (partial list):
Led group classes at Your Dog's Friend in Rockville, Maryland
Led group classes at My Dog's Place in Mystic, Connecticut
Managed a nonprofit animal shelter for seven years that provided humane education, as well as animal control for 13 townships.
Certified as a New Jersey animal control officer.
Training (partial list):
Training from Core to Complex, 2-day seminar, with Ken Ramirez, New York (June 2014)
Clicker Expo, 3-day conference, Virginia (2014)
The Science of Animal Thinking and Emotion, 2-day conference, Washington, DC (2014)